Arthritis in dogs is becoming more common than ever. A lot of us tend to ignore it at first, but in the long term, it can cause a lot of issues in our dog's life. While traditional medication is available for treating arthritis in dogs, many noticed side effects of some of these medicines. This led to people looking for a safer alternative to treat dogs with arthritis. In recent years, CBD has come up as one of the most popular alternatives for traditional; pharmaceutical medication to deal with several physical as well as psychological conditions. In this article, we will see how CBD can help dogs with arthritis. But before that, let's look at what CBD is.
What is CBD?
Cannabidiol, or CBD, is a highly popular extract of hemp or cannabis plants, well known for its medicinal properties. Studies have found that CBD can help deal with a number of conditions, including pain, inflammation, stress, anxiety, sleep disorders, and much more. As of the 2018 Farm Bill, using CBD for recreational and medicinal purposes is completely legal, as long as it contains less than 0.3% THC. THC is the psychoactive compound found in cannabis, responsible for inducing the feeling of 'high' upon consumption. If CBD contains as low as 0.3% THC, it cannot cause those psychoactive effects, making it extremely safe for consumption. While humans have been using CBD for many years to deal with various conditions, studies have also shown that CBD can help animals such as dogs and cats with their conditions as well. Looking at this, manufacturers have now started making CBD products especially for the use of pets. Let us now see how CBD works to help deal with the symptoms of arthritis in dogs.
Arthritis in Dogs
Arthritis in dogs is generally quite difficult to manage. For dogs suffering from arthritis, even normal physical activity can be extremely painful, irrespective of how severe the condition is. Oftentimes, arthritis is developed in the joint tissues of the shoulders and hips, however, it can manifest itself in any part of the dog's skeletal structure. Arthritis is generally developed in older dogs, but can also be triggered by some infections, or tissue deterioration due to inflammatory responses from immune disorders. This chronic inflammation in the tissues around your dog's joints can also lead to irreversible loss of protective tissue and cartilage.
Benefits of CBD for arthritis in dogs
As mentioned before, CBD offers a wide range of benefits to deal with symptoms related to arthritis in dogs. Some of its properties make it an ideal option to help ease arthritis and the pain and mobility issues related to the condition. Here are some of the benefits CBD can offer for arthritis in dogs:
Pain Management
CBD offers a safe and natural alternative to prescription medication for pain management. Cannabis, as we all know, has been used as an effective analgesic for thousands of years. CBD helps deal with pain directly by altering the communication of your nervous system with the pain.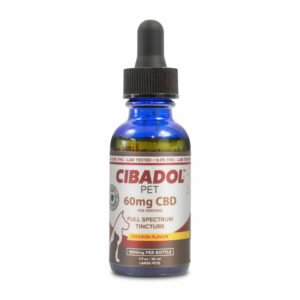 Inflammation
CBD's anti-inflammatory properties are the most prominent of all the health benefits it provides. Inflammation is also the root cause of a lot of issues throughout the body, such as allergies, chronic pain, diabetes, autoimmune diseases, and also arthritis. Generally, the pain your arthritic dog experiences is due to inflammation in its joints. When you deal with the inflammation, you deal with the root of the problem and prevent any kind of hurt or pain.
Immune System Modulation
CBD also works with the body's Endocannabinoid System (ECS) to modulate the immune response in the body. By interacting with the endocannabinoid receptors in the ECS, CBD promotes a better and moderate response of the immune system. Arthritis, when developed as a result of an auto-immune response of the body can be dealt with by CBD and help boost your dog's immunity.
What the research says
Although there has been plenty of anecdotal evidence to back CBD's health benefits for dogs with arthritis, many reputable scientific institutes have also studied the compound to verify these claims. One of these studies was conducted by Cornell University's College of Veterinary Medicine. In this pharmacokinetics study conducted on dogs suffering from osteoarthritis, researchers found that the dogs saw a significant decrease in pain and an increase in physical activity. By giving 2mg of CBD twice every day, dogs with arthritis showed an increase in comfort and physical activity. Another study published in Current Neuropharmacology in 2006 suggested that CBD offers therapeutic benefits for both humans and pets suffering from chronic pain related to arthritis. While there are many more studies that came out with similar results, we can confirm that CBD helps deal with symptoms of arthritis in dogs.
Buying CBD for dogs
Buying CBD is always tricky, especially for beginners, as there are hundreds of options to choose from. But don't worry, we have just the right brand for you! Cibadol is a highly reputed and trusted brand that offers premium quality CBD products for all kinds of use. All of their products contain less than 0.3% THC to ensure the safety of consumers. Moreover, you can also find third-party lab test results on their websites. These tests are conducted to verify the quality of CBD being used in the products. In general, if a company provides such lab test results for public information, the brand is authentic and follows all the government guidelines and regulations. Additionally, Cibadol has a lot of loyal customers that can back their products with years of experience. In short, when it comes to buying CBD, you cannot go wrong with Cibadol. If you are looking to buy CBD products, do check out their website.
---
Interesting Reads:
CBD Lab Report: Why is it Important to Check Before Purchase?
Does CBD Oil Help With Sunburn