CBD has been making news worldwide and rightly so, for its innumerable benefits. It is known to help with anxiety, depression, inflammation, acne, chronic and joint pain, and so on. It makes for a great alternative to traditional forms of treatment. CBD is also safe for human consumption and has a lot of research going on for the way it benefits the body. Our body has an ECS and CBD helps the ECS function much better by positively impacting appetite, mood, energy, sleep, memory, heart function, digestion, etc. In this article, we will discuss if CBD can help with a serious condition called COPD.
COPD and CBD
Chronic Obstructive Pulmonary Disease (COPD) is a chronic and inflammatory lung illness that obstructs airflow from your lungs and comes with issues such as mucus, wheezing, breathing difficulty, cough, and so on. It usually happens due to emphysema and chronic bronchitis. It is to be noted that COPD is a progressive disease, which means that it gets worse over time; but it is treatable. Some symptoms include shortness of breath, chest tightness, lack of energy, swelling in ankles and feet, respiratory infections, chronic cough, weight loss, etc. It can cause a swarm of complications including respiratory infections, heart problems, lung cancer, depression, etc.
The biggest risk factor for COPD is smoking. Did you know that up to 75% of people who suffer from COPD smoke or used to smoke? Having long-term exposure to factors that irritant the lungs can also be a risk factor, for example, working in places that have chemical fumes, high levels of air pollution, secondhand smoke, etc. People who are diagnosed with COPD are usually 40 years old, but even younger people can have COPD.
It is a difficult condition to live with. Patients can find it cumbersome to work effectively, stay active, and live a normal life like others. While there are plenty of traditional OTC medicines available for COPD, more and more people are opting for an organic approach in the form of CBD.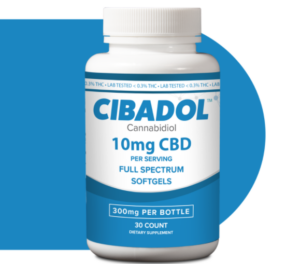 Known as cannabidiol, CBD is an organic compound that is found in the cannabis plant. It has some medical compounds and none of the psychoactive compounds. So you don't have to worry about being 'high' after consuming CBD.
Some additional steps you can take to prevent complications of COPD include quitting smoking, getting annual flu vaccinations, using inhalers, taking medication on time, using supplemental oxygen, seeking professional help for the anxiety and depression that comes along with it. You can check out a study that outlines the relationship between COPD and depression.
According to research, CBD has strong anti-inflammatory effects and this benefit can be a part of your COPD management. This can be helpful for people with COPD and Asthma – and yes these diseases can be related. Treatment should include reversing or reducing the inflammation and narrowing – and CBD helps here! Another 2015 study also showed that CBD can reduce lung inflammation and make it easier to breathe. CBD can also help people who are trying to reduce smoking, according to a 2013 study. CBD also exhibits bronchodilatory properties that help in lowering resistance by dilating the respiratory airways, thereby creating a better lung airflow.
Dosage
There is no 'ideal' dosage as such for CBD. We suggest that you start small and then find your way up. Moreover, the dosage depends on your body's chemistry, the objective you have in mind for consuming CBD products, your weight, and your personal preferences.
Buying CBD for COPD
There are plenty of brands in the market that deal with CBD products, however, not all of them can be trusted. You have to opt for a brand that gives you pure CBD, at the right price, and provides you with a list of ingredients alongwith independent third-party testing verification. One such brand you can trust is Cibadol. It has products grown organically and has a huge audience base across the world. Let's discuss some products of Cibadol that you can incorporate into your wellness routine:
Cibadol Full-Spectrum CBD Tinctures: This is available in different sizes as per your choices. It is one of the most progressive CBD tinctures and is designed to support maximum absorption; leading to faster and better results. You can either use it daily or as needed. Two types of purchase plans are available – one-time and monthly. All you need to do is place one milliliter under the tongue and hold it until you absorb it. You can check out the ingredients on the website.
Cibadol Full-Spectrum CBD Softgel Pills: Adding these CBD pills to your daily wellness routine will make so much difference and make you healthy! It is your daily dose of beneficial phytocannabinoids. Just pop one in and swallow with water or your favorite beverage. You can consume one daily for maximum benefits. Check out the ingredients and the pricing on the website.
Cibadol ZERO Broad-Spectrum Sleep Tincture: Sometimes, being sick means you do not get enough and quality sleep. But won't worry, this is a powerful sleep-aid designed to provide you with maximum benefits! It is third-party tested for purity and efficacy. You can opt for a one-time purchase or subscribe monthly, as per your preferences. It is formulated for a night of more restful sleep – just place around 20 drops under your tongue and hold for 30-60 seconds daily.
Takeaway
COPD is a serious condition and should be treated like that. While medications and CBD will make your condition better, it is also always crucial and a good habit to maintain a healthy diet and lifestyle that does not include smoking.
If you have been suffering from COPD and traditional medicines are not helping you a lot, it might be time to add CBD to your routine. It will relieve you of the symptoms and make you feel so much better. It is also a good idea to consult with your healthcare professional to manage your symptoms. We hope this article has helped you understand everything you needed to know about COPD and CBD. Thank you for reading!
---
Interesting Reads:
How CBD Can Help With Seasonal Affective Disorder
The Complete Guide To CBD Salves