CBD use for medical issues has increased dramatically in recent years. Numerous CBD products such as CBD tinctures, CBD oils, CBD moisturizers, CBD roll-ons, CBD eye creams are being used commonly and have achieved widespread popularity. But as many people may not know, CBD can also be used for a variety of health issues in pets too. The medical use of CBD for animals has gradually gained prominence over the years and has been a field of extensive research.
In this article, we will explore more about how dogs get separation anxiety and the ways in which CBD can help! We will also recommend some brands that have been quite successful! Read on:
Introduction to CBD
CBD, which stands for cannabidiol, is a member of the cannabinoid family which is a group of chemical substances naturally found in marijuana or hemp plants. Cannabinoids interact with the human body's endocannabinoid system, which aids in homeostasis maintenance. CBD doesn't produce a "high" and is non-psychoactive unlike tetrahydrocannabinol (THC). It is a key component in the treatment of a wide range of medical problems. CBD can be used to treat issues such as insomnia, depression, anxiety, chronic and acute pain, etc. while it may also help treat conditions like cancer and arthritis according to various studies.
Our pets play a significant part in our lives and many people consider them a part of their family as well. Pets, especially dogs, not only provide us companionship but help reduce stress and overcome loneliness as well. Dogs are known for their loyalty and are often called "Man's best friend". However, unlike humans, animals can not communicate their grievances and issues as we do. Hence their health and wellbeing is our responsibility as we are the only companions to our pets who can provide them proper medical care and shelter.
Separation Anxiety In Dogs
Separation Anxiety is one of the common behavioral conditions found in canines and is said to affect 20-40% of dogs that veterinary specialists encounter. It is a state of mental distress which is triggered in dogs when they are away from their guardians. Dogs with separation anxiety may display agitation or anxious behavior in the absence of their human companions. While there is no specific cause for this condition, it is far more prevalent in dogs who have been adopted from shelters or those who have experienced the loss of a family member. Changing families and homes can also be a factor in causing separation anxiety.
Some of the common symptoms  are:
1) Urinating and Defecating in the absence of guardians
2) Persistent Barking, Howling, or Whining
3) Pacing
4) Shaking
5) Chewing
6) Digging and causing damage to the household objects
Separation anxiety can be harmful to the dog's health and lead to them being extremely anxious and causing excessive damage.
CBD for Dogs
As we mentioned earlier, just as CBD has several medical applications and advantages for humans, it can be beneficial for pets too. As a study states, CBD can help reduce anxiety and regulate stress in animals with the help of its calming properties and increase levels of serotonin. It's a crucial characteristic as it would be a direct counter to the separation anxiety condition. According to another study, it can also help decrease pain, provide comfort and increase mobility in animals without any detrimental effects thus help treat osteoarthritis in dogs. It can be decisive in maintaining bone and joint health in senior dogs who may be dealing with arthritis. CBD has anti-inflammatory properties can be highly beneficial in treating physiological issues while it is also said to be successful in improving fur texture and skin health. As CBD use for animals is still relatively new, its benefits and applications are still being researched but so far the evidence has been promising and various veterinary specialists have supported the same.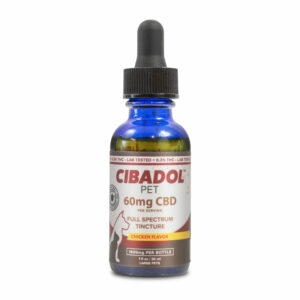 Buying CBD Oils For Separation Anxiety
As we said, we are going to introduce you to an amazing CBD brand that is known for its amazing products that are highly successful and guaranteed to work – CIBADOL. The brand has top-quality products that are formulated with all-natural ingredients that are sourced from their own Colorado farms. This is a brand that provides the best CBD products at competitive prices and is trusted by thousands of people.  In short, you can trust this brand!
One of its many amazing products is Cibadol PET Tincture. This product offers a versatile way of providing your dog CBD. Infused with hemp seed oil, it can help provide an immune system and metabolism boost while also benefit their skin and digestive system. On top of that, it is laced with natural chicken flavoring that makes this a great treat for your dog. All you have to do is drop it directly into their mouths or add it to their meals and it'll provide relief instantaneously. It comes in all three sizes; Large, Medium, and Small.
Don't worry, they provide CBD capsules too! Cibadol PET – CBD Gel Capsules are formulated with full-spectrum CBD in their softgels. They are designed to dissolve in the intestinal tract rather than the stomach in order to provide optimal absorption. It contains hemp seed oil that provides comprehensive health support and addresses certain conditions. And of course, it comes with special chicken flavoring!
Steps you can take in addition to giving your dog CBD
Here are some tips:
1) Taking your dog on long walks and hikes
2)    Maintaining a stress-free environment as dogs are very good at sensing moods
3) Stimulating short departures initially before gradually increasing time periods
4) Creating positive associations with enclosed areas using treats
Takeaway
Our dogs are incredibly loyal and never let us down. It's only fair that we do the same for them and give them the care they deserve. CBD products have been quite successful in treating dogs and making them healthier. It's time you do the same for your dog too!
---
Interesting Reads:
Is CBD oil Effective for Treating Bruises?
Can CBD Help with Bipolar Disorder?