For dog parents, kennel cough is something that can get far too distressing. It is also known as tracheobronchitis. Over the last few years, CBD is being used on humans and pets alike, for its innumerable benefits. This poses a question: is CBD for kennel cough a good solution? In this article, we will find this out! Read on: But first, let's address the basic illness in question.
What Is Kennel Cough In Dogs?
Most dogs love to go to the park or daycares. This also makes them vulnerable to the risk of kennel cough. Kennel cough can be transmitted through air, when the dog comes in contact with contaminated objects, or when they are in direct contact with other sick dogs. Usually, the kind of cough that accompanies this is a hacking or a choking one – making it far too dreadful. If the dog is too young or old or unhealthy, kennel cough could even kill a dog! We suggest that you get your dog checked out as soon as they start exhibiting some symptoms! It comes from a bacteria called Bordetella and is infectious in nature. Humans cannot get this illness from dogs, but your cats might. So watch out!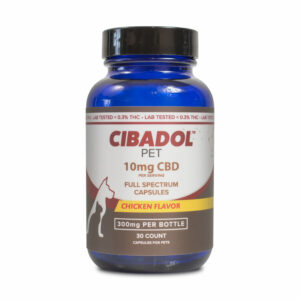 Some common symptoms of kennel cough include coughing, irritated lungs, nasal discharge, feeling sick, and so on. The duration of the illness depends on the kind of bacteria in each case. Bordetella is the most common cause and can get cleared up in a few days with appropriate treatment. General treatments include honey, using a humidifier, cough suppressants, etc. If your dog does not have enough energy, sneezing, coughing, and making choking-like sounds, there is a chance that the pet has contracted kennel cough. It can be treated at home, but in extreme cases, we suggest you visit the vet and they can run various tests. As mentioned earlier, kennel cough is a contagious disease, so the first thing you need to do is keep them at home to keep them and other pets safe. With the right treatment, the dog can get well within a week. Always remember that natural remedies are much better than chemical remedies.
CBD For Dogs
CBD stands for cannabidiol and is trending over the recent years. So much of the research is focused on how CBD works in humans and pets. It is one of the best natural supplements you can give your dogs.
CBD has become a great treatment option for dogs – whether they are ill, old, aging, or even healthy. It can help get rid of inflammation in the body with ease. It is to be noted that CBD is organic and will not cause any side effects. It does not give you the feeling of being 'high' and is safe for human and pet consumption. So you need not worry.
CBD in dogs can help with stress and anxiety, inflammation, irritability, joint pain, side effects of chemotherapy, etc.
Using CBD For Kennel Cough can help with inflammation with its anti-inflammatory features. You can add CBD naturally to their diet to help them with their cough. There are different ways of administering CBD and you can choose what works best for your dog!
The dosage of CBD depends on the body composition, the objective you have in mind, and a few other factors. We suggest you start with a small dose and gradually increase it. It is also recommended that you visit your healthcare provider for any queries. CBD oil is very convenient when it comes to giving dogs the supplement. The drops can be easily put into their mouth or add a few drops to their food. Easy!
Buying CBD
There are plenty of brands that deal with CBD products, however, you have to be careful as to which ones are really dependable. It is ideal if they provide you with a complete list of ingredients and conduct third-party independent lab testing. One such brand you can rely on is Cibadol. Let's discuss what they have to offer!
Cibadol is a trustworthy brand that deals in organic CBD products for humans and pets alike. They own the farm and manufacture every product. The products are available in full-spectrum and THC-free CBD isolate.
CBD Pet Tincture
This is ideal for small dog breeds and is an easy way to administer doses to your pets for fast relief. It has hemp seed oil for an immune boost and provides your pet with various digestive and skin benefits. It has a chicken flavor and is a special treat for your pets! You can subscribe one-time or purchase monthly. This CBD pet drops can be dropped directly into your pet's mouth or add it to their meals. Check out the complete list of ingredients on the website!
CBD Pills For Dogs
These soft gels provide optimal absorption as they dissolve easily in your pet's intestinal tract. The capsules are 30 in number and you can give them a daily dose of 1 capsule. This also provides you with a natural chicken flavoring, making it a special treat. You can subscribe to it monthly or one-time, depending on your needs. You can also hide it inside their treats or food or give them directly. You can increase the dosage as needed. Check out the ingredients on the website and make your purchase right away!
Takeaway
Having a sick dog is not worrisome but with CBD you can stay calm! The illness is not a big problem in most dogs. Using CBD and making it a part of your dog's daily routine will help fight various issues and make them healthy. After all, our pets are our world and if they are sick and sad, then we don't feel too good either. So a great and healthy lifestyle is extremely crucial for pets and humans too!! We hope this article has helped you understand the importance of CBD for dogs. Thank you for reading!
---
Interested Reads:
Does CBD Help With Autoimmune Disease In Dogs?
Does CBD Oil Work For Contact Dermatitis?