Ice cream does make everything better, so adding CBD to it to help your body, not just your feelings, feel better makes sense. With so many water-soluble CBD choices available, this custard-like ice cream recipe will easily incorporate the compound. With or without the CBD, this smooth and tasty CBD vanilla ice cream will be a recipe you'll cook again and again. Don't forget the extras, like cookies or melted CBD chocolate drizzled over the top with a little coconut oil.
Why CBD?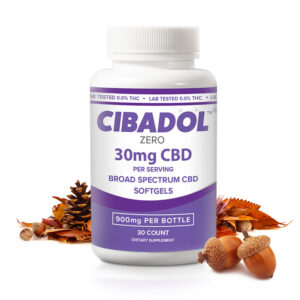 CBD has gained a lot of prominence over the last few years and for good reason. It works well with the ECS in our body and helps regulate mood, appetite, sleep, and even helps with pain management and anxiety/depression. You can consume CBD in a lot of ways and different products are available for the same. One of the best ways to consume CBD is by adding it to your favorite recipes and getting the best of both worlds! So we decided to help you out with a yummy recipe that also has CBD in it.
A lot of brands deal in CBD products but not all of them can be trusted. Brands should provide you with a complete list of ingredients along with independent third-party testing to establish the authenticity of their products. One such brand you can rely on is Cibadol. Let's discuss more:
 Cibadol – A Trusted Brand
Cibadol is one of the most well-known and well-respected CBD brands on the market. They get their CBD from hemp farms that are cultivated organically. THC content is less than 0.3% in all of their products. This makes their CBD products extremely safe and free of any psychoactive effects upon consumption. You can't go wrong with Cibadol when it comes to CBD products. For this recipe, we will be using Cibadol's most popular product, CBD Tincture. Let us now move on to the recipe.
Ingredients
1 cup whole milk
2 quarts of thick cream
3/4 cup sugar, granulated
60 g Cibadol CBD Tincture
salt (1/4 teaspoon)
6 big egg yolks 1 vanilla bean
1 tbsp vanilla extract (optional)
Instructions
Scrape the seeds out of the vanilla bean by cutting them in half lengthwise.
Combine milk, sugar, salt, vanilla bean seeds, and 1 cup heavy cream in a large pot.
Preheat the oven to 200 degrees Fahrenheit and cover the saucepan.
Remove the pan from the heat and let the mixture soak for 20 minutes.
Whisk egg yolks in a medium mixing basin.
Slowly pour the warm milk mixture into the egg yolks while whisking regularly to temper the mixture.
Return the mixture to the saucepan. Cook, stirring regularly with a spatula and scraping the bottom of the pan, on medium heat. Cook, stirring occasionally until the custard thickens and coats the spatula.
Pour the heated vanilla cream mixture into a large mixing bowl through a fine sieve, then whisk in the remaining cup of cream.
Combine the  CBD sauce and vanilla essence in a mixing bowl. To combine the ingredients, whisk them together.
Place the bowl in an ice bath to cool completely.
Refrigerate overnight after covering with plastic wrap.
Using an ice cream machine, churn the mixture according to the manufacturer's instructions.
Transfer to a freezer-safe container, cover, and freeze until hard.
Enjoy your CBD Vanilla Ice cream!
It is a great idea to add CBD to your daily wellness routine and see the benefits for yourself. The whole world is understanding the importance of CBD and you should jump in on the bandwagon too! Don't miss out on the amazing benefits provided by CBD. You can add it to your diet or consume it topically, or even add it to your skincare routine. It completely depends on your preference. It is also to be noted that there is no standard dosage for CBD. We recommend that you start small and eventually find your way up.
For now, enjoy your recipe! Thank you for reading!
---
Interesting Reads:
How to deal with Post-Pandemic Anxiety?
Can CBD Oil Help Treat Kennel Cough?