Mindfulness meditation is a remarkable way to destress, trigger your creativity, raise focus, and relax both your body and mind. It trains the mind to check racing thoughts, drop negativity and live in the present time and moment. You arrive at a mental state that helps you to concentrate on "the now" to make you acknowledge your thoughts and sensations in a clearer and balanced way.
How To Do Mindfulness Meditation
Knowing how to perform mindful meditation involves practice and little time, but you can learn how to practice it. Techniques can differ, but normally mindfulness meditation involves awareness of the body and mind and deep inhalation. To begin, what you need is five minutes of free time, a cozy corner to sit, and a mindset free from any judgment.
Cultivating mindfulness is core to managing crisis and exploring natural wisdom, ours as well as others. The Buddhist tradition practices mindfulness meditation through sitting. You get myriads of meditation techniques with some designed for relaxation, while others can help to create a transformed state of consciousness and well-being.
This type of meditation is unique as it does not tell us to be different from what we are. Rather, it helps to live in the present. Mindfulness meditation is unique in that it is not directed toward getting us to be different from how we already are. Instead, it helps us become aware of what is already true moment by moment. We could say that it teaches us how to be unconditionally present; that is, it helps us be present with whatever is happening, no matter what it is.
How To Practice Mindfulness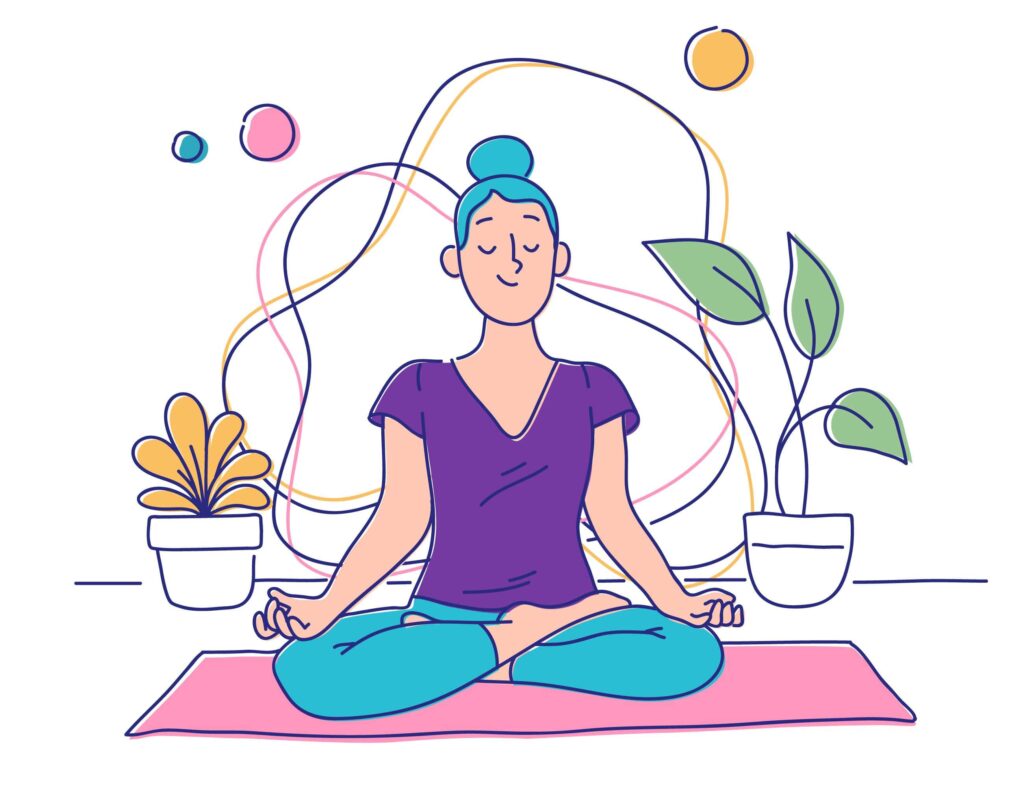 So, what is the proper way to practice mindfulness meditation? You can set up a peaceful spot or a corner in a room for your meditation practice. You can even sit facing a plain wall or create a small altar or ornate your chosen spot with photos and revered objects from your religious beliefs. Once you have selected your spot, then you need to pick your seat. It's up to you to take your seat on a chair, a cushion, or a low seat that does not wiggle around and is stable.
Next, sit down in an upright posture and one that reflects your dignity and inner sanity but avoids stiffness. Keep a straight back with the natural curve present inside the lower back appearing.
If you are perched on a cushion, cross the legs before you. Observe again that you prefer to position your hips at a higher level than the knees. If required, increase your seat height by folding a towel or blanket.
Rest your hands upon the thighs, looking down. Your eyes in a way remain open and stare softly on the ground before you approximately four-six feet. If you somehow are nearer to the wall than that distance, allow your gaze to remain on the wall as it rests naturally as if you wanted to view that far. Do not focus your gaze tightly. The purpose remains to look at whatever lies ahead of you. Do not fix or try something particular while gazing, just keep things easy and let it land up where you have fixed it.
Let your front be expanded and the back strong
Start by remaining in this position for some minutes in such an ambiance. If your focus strays, simply gently revert it to your environment and the body. Your mind will stray, that aspect you will observe using your mindfulness. Minds do wander, after you have perceived that yours has roamed far away, return to your body and the surroundings.
Now Breathe
The second portion of the practice involves your breath which you need to take lightly and experience as it passes through your body and exits. No special breathing technique is needed as we like to be the way we are, and no manipulation of breath is desired. If you are feeling that you are commanding your breath somehow, simply let it be as it is. It gets deceptive to become natural based on your intention, so do not be bothered about the naturalness of your breath. Simply, let it remain as it is.
Remain seated in this position and inhale and exhale as you feel one with the environment. You are allowing 25% of your focus on the breath and not channeling your total focus limitedly on your breath. The remaining part of the focus will by itself be diverted to your environment and the body.
Last, but not least your last leg of mindful practice should be around working with your rising thoughts. You can watch many overlapping thoughts cascading one after another, memories, plans, tunes of your favorite commercials, or fantasies. You can even manage a feel of your breath as it is normal if you are a beginner at meditation. Try to observe what happens.
Daily Practice Of 15 minutes
If you are a newcomer to meditation, try to remain seated for at least 15 minutes and slowly raise it to 20 minutes or half an hour. Ultimately, you can stretch it to 45 minutes or one hour. If you are interested in longer sitting moments, you can try learning walking meditation.
Most essentially, what you have come to know about how to practice mindfulness meditation is that you only have to remain mindful of the events happening around you. You need not stop thinking as getting blank is not the objective of meditation. If ever you find yourself thinking, incorporate it into your thoughts. Do not transform yourself into one having some preconceived idea of how you should try to be. You can even include mindfulness techniques into day-to-day living when you are strolling, eating, or participating in various daily tasks.
CBD Promotes Relaxation
Many users have used CBD during meditation and have reported relaxed and positive moods due to its effects on cortisol levels and GABA receptors. CBD oil helps to promote calmness and enhance serotonin production within the brain. Which can stabilize your mood and aid in keeping longer durations of meditation. Like with everything, meditation needs time and habit to become skilled, and the greater your practice the perfect your mindful meditation will become.
Moreover, if you suffer from chronic pain, disability, or any inflammatory disorder, superior grade CBD oil for inflammation. Pain can be beneficial in quelling pain signals from the neurons in the brain and lowering inflammation.
Meditation can offer both long-term and short-term advantages for easing chronic pain. On the other hand, plant cannabinoids like CBD can help to soothe tense muscles, subside soreness and improve your mobility and capacity to be seated still for some time.
Reputable pure CBD brands like Cibadol present a wide range of top-notch CBD products from CBD tinctures, gummies, Softgels, salves, muscle gel roll-ons, to isolates, to incorporate into your therapy regime. They are sourced from their in-house Colorado farms as Cibadol is a vertically integrated company that manufactures a vast array of CBD, and CBN products that ensure quality assurance and are third-party lab tested and produced by a cGMP manufacturing facility.
Final Thoughts
Modern living can be hectic and mental as well as physical fatigue can become overwhelming if there is no proper solution to balance the mind and body burnouts. Whether you are living an active lifestyle or spend your day sitting at a work desk bent over a keypad. Meditation works as a great ally in relieving stress and soreness and places you in a relaxed state and better control. Moreover, it also alleviates anxiety by enhancing awareness and modulating your breath while keeping stressful thoughts at a distance.
---
Interesting Reads: